AWARD WINNERS! National Junior Environmentalist of the Year.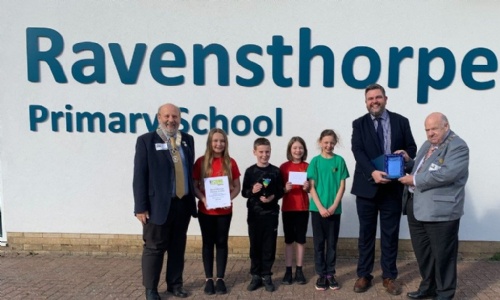 Ravensthorpe wins the Rotary Club of Great Britain and Ireland Young Environmentalist of the year award .
We were delighted to receive the Young Environmentalist Award from our friends at the Rotary Club of Peterborough Ortons on Friday 15th October. The prize was given to recognise the great work that takes place in our Forest School and the WestRaven Community Garden. Year 6 pupils made a video about how they look after the school environment on their PKAT iPads last year. The video won the regional prize and the national prize in the Junior category. The award was accepted by members of our Year 6 school student leadership team. The Rotary Club also presented us with 1000 crocuses to plant in the school grounds as part of their 'End Polio Now' campaign and seeds and gardening equipment for the 'Billion Seed Challenge' https://www.rotarygbi.org/events/billionseedchallenge/ A huge thank you to our friends in the Rotary Club for supporting our environmental work.