Celebrating High Performance Learners at Ravensthorpe!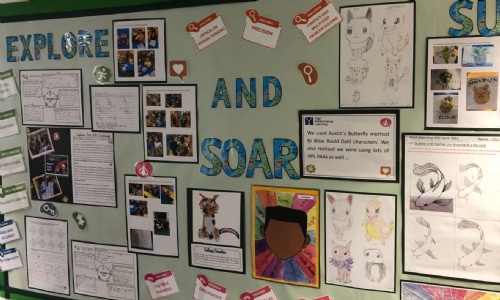 Ravensthorpe School awarded High Performance Learning 'World Class School' status.
Ravensthorpe Primary School has been recognised as a World Class School in recent awards
Student, parents and teachers at Ravensthorpe Primary School are celebrating. It has demonstrated a world class quality of education throughout the school and become accredited as a High Performance Learning World Class School.
The award is a globally recognised quality mark for self-improving schools and provides the framework and structure to help achieve a step-change in levels of student performance. Ravensthorpe Primary School now joins global community of schools from Dubai to Mexico who routinely share best practice and support each other.
Professor Deborah Eyre, Chair at High Performance Learning (the accreditation body) says:
"Truly world-class schools understand that while grades are important, producing students who are intellectually and socially confident, work-place and life-ready with a global outlook and concern for others is our true aim." Ravensthorpe Primary School has worked hard to strengthen its practice and to move closer to that vision of every child becoming a high performer."
Staff and students at Ravensthorpe Primary School had to go through a rigorous and demanding two-year journey, which was supported by HPL, to encourage all children to achieve success academically and throughout their lives.
Martin Fry, Headteacher at the school said:
'Two years ago, we made a commitment to using HPL to reinforce and strengthen existing school values and to ensure that every child, no matter their need or context, unlocks their potential and achieves their best at school. We have used HPL to help bring our school community together again after the Covid 19 disruption, with children, staff and parents collaborating to 'explore, succeed and soar' as high performance learners.'
High Performance Learning
High Performance Learning (HPL) is a mission-driven organisation, working with schools and teachers to change the face of education and deliver student high performance for the many - whatever their background - not the few. HPL is a proven, research-based, pedagogy-led approach, which relies on teachers and their professional capital to help self-improving schools make the gear change to become world class. Its impact on the school is dramatic and sustained.
HPL work with both UK and international schools, state and independent sectors, and with multi-academy trusts. What HPL schools have in common is that they put teaching and learning at their heart and they are committed to accepting that everyone is a potential high performer and aiming for less is no longer acceptable. HPL provides a flexible teaching and learning framework for systematically building the cognitive competencies that lead to academic and lifetime success. In an HPL school, the philosophy and framework become part of a school's DNA – an underpinning philosophy and common language for teaching and learning that drives the work of the school and brings coherence to the modern culture of targets, initiatives and programmes.
To discover more go to www.highperformancelearning.co.uk